Whether you're on campus for graduation, a sports event, or as a proud Penn Stater visiting your future alma mater, we want to make sure you have a chance to experience Penn State!
If you're visiting from outside the United States, be sure to check out information on visa requirements and more!
---
Plan Your Travel
Hotels and Lodging
Hotels near University Park fill fast, so make your hotel reservations as soon as you know your travel plans!
Maps, Directions, and Parking
Campus Tours
Nearby Airports
There are many options when it comes to air travel, including the University Park Airport (Airport Code SCE) located just a few minutes from campus. From the airport, you can take a rental car, taxi, or hotel shuttle to get to your hotel.
Airports Within Driving Distance of University Park

| Airport Location | Airport Code | Approximate Driving Distance from University Park |
| --- | --- | --- |
| Harrisburg, PA | MDT | 1 hour and 45 minutes |
| Philadelphia, PA | PHL | 3 hours |
| Pittsburgh, PA | PIT | 3 hours |
| Baltimore, MD | BWI | 3 hours |
| Washington, D.C. | DCA, IAD | 4 hours |
| Newark, NJ | EWR | 4 hours |
| New York City, NY | JFK, LGA | 4 hours and 45 minutes |
International Visitors — Secure a Visa
Unless you qualify for a visa waiver, you will be required to secure a B-2 Tourism and Visit visa. There are several steps to apply for a visa and these steps can vary depending on the embassy or consulate website where you will apply. The U.S. Department of State recommends that you wait to make travel arrangements until after you have officially secured a B-2 visa. Our staff can also help answer any questions you might have as an international visitor. 
Other Resources
Experience Penn State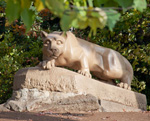 Photo at the Nittany Lion Shrine
Local legend has it that the shrine is the second most-photographed place in Pennsylvania, second only to the Liberty Bell in Philadelphia.
Whether or not this can be proven, one thing is for sure: if you visit Penn State's University Park campus, you must have your photo taken at the shrine.
 
Berkey Creamery (Open Year Round)
Penn State's Berkey Creamery is the largest university creamery in the United States! On football weekends, several thousand cones are dipped — and in the summer, lines snake out the doors as visitors wait their turn for famous flavors such as Peachy Paterno and Alumni Swirl. Berkey Creamery also makes its own cheeses, yogurts, and milkshakes!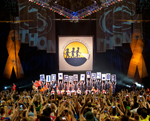 THON — For the Kids! (February)
The Penn State Panhellenic Dance Marathon, fondly known by Penn Staters as THON, is the largest student-organized philanthropy in the world. Every February this fundraising effort — benefiting The Four Diamonds Fund, Conquering Childhood Cancer, at the Penn State Milton S. Hershey Medical Center in Pennsylvania — culminates in a forty-six-hour, no-sitting, no-sleeping dance marathon. In 2014, THON raised more than $13 million.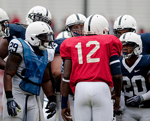 Blue-White Game (April)
Don't miss the chance to join fellow Penn Staters to celebrate one of Penn State's most popular spring events — the Blue-White Game!
In recent years the Blue-White Game has drawn more than 70,000 fans to Beaver Stadium to watch the Nittany Lions take the field against one another. The game is free; no tickets are needed.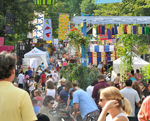 Arts Festival (July)
The Central Pennsylvania Festival of the Arts (Arts Festival) is a five-day celebration of the arts that brings more than 300 artists and 125,000 visitors to State College and Penn State's University Park campus every summer.
Children's Day is a longstanding tradition that kicks off Arts Festival and draws a large crowd of participants every year.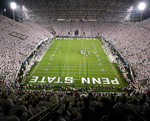 Nittany Lion Sports Events
Penn State is home to 23 varsity sports — football, baseball, cross country, lacrosse, soccer, field hockey, volleyball, fencing, wrestling, and more!

Visit GoPSUSports, the central online hub for Penn State's athletic programs, to get ticket information and buy merchandise. The site includes schedules, scores, analysis, ticket information, video highlights, and access to live audio feeds.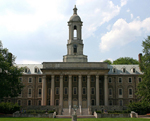 Old Main
First completed in 1863, Old Main is one of the most well-known landmarks of campus today. It was designed by Hugh McAllister to contain classrooms, laboratories, offices, a chapel, and residential space for 400 students. Over the years, Old Main burned down twice and was rebuilt each time, serving many different purposes. Today, it serves as an administration building for Penn State's President and other leaders.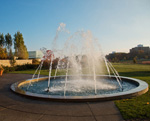 The Arboretum at Penn State
With more than 17,000 plants representing 700 species, the Arboretum is the perfect relaxation spot on campus.
The 370-acre Arboretum boasts more than a mile of hiking trails and was opened in April 2010 after Penn State received a $10-million donation from alumnus Charles H. "Skip" Smith.
Museums
For hours and exhibit information, visit each museum's website.